Inverafrut's Love for Their Community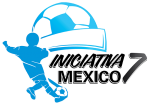 Located in Veracruz Inverafrut is one of Mexico's leading producers and exporters of limes but what many people do not know about is the companies great love and commitment to their local community.
Iniciativa 7 Foundation
Founded over four years ago by the foundations President, Adriana Melchor and a group of local parents, Iniciativa 7 is an entirely non-profit social project.
The project was created to support and protect poverty-stricken children by providing them with the opportunity to learn, eat healthily and play football. A game that they love!
" Iniciativa 7 is a special project that promotes education in general, but above all, it focusses on poor children with talents and dreams of playing in their towns and in national and international fields." Iniciativa Foundation
To date the foundation supports over 70 children providing them with a clear training structure and opportunities to play football locally, nationwide and in some cases internationally!
Back in April 2017, the Iniciativa 7 team joined Allfresch for a week-long tour of the UK where they were invited to play in tournaments and visit their beloved Manchester United stadium.
Scholarships & Support
In addition to football, the children also receive financial support from donations towards football kits, equipment, travel and tuition fees and in select cases full scholarships.
In short, Iniciativa 7 makes young disadvantaged children happy every day by providing them with a safe and loving environment where they can indeed begin to thrive. Learn more about the Iniciativa 7 Foundation.
Children's Cancer Ward
Equally important to the foundation is their work with the children's cancer ward. Adriana and the Iniciativa 7 Foundation is also heavily involved in helping to support terminally sick children in and around Veracruz.
Iniciativa 7 provides children diagnosed with cancer the opportunity to play football while they are able and more importantly supports both them and their family with access to health care, financial and emotional support.
As well as supporting individual cases the foundation also contributes funds to the local hospital cancer wards by securing donations and raising funds through local games and events.
Plans are also being developed to provide a shelter for the children's families. In many cases, mothers and fathers travel hundreds of miles with their sick child to reach the main hospital in Veracruz and often have nowhere to stay or the money to support themselves.
The hope is that the home will provide families with some comfort while their child is in care.
While the company is currently in the process of obtaining Fair Trade certification for Inverafrut, their passion and commitment to both their staff and surrounding community are already very much at the heart of Inverafrut's values, and their work continues to improve the lives of local people.
Visit Inverafrut for more information or to donate to the Iniciativa 7 foundation.