Environmentally Conscious from Farm to Shelf
Our business idea is a simple one. We are vertically integrated partners delivering a sustainable and consistent supply of premium quality bananas direct from our reputable producers. This means that we are dependent on a healthy environment and nutrient-rich soils, which allow us to sustain our business. That is precisely why everyone at Coliman Allfresch strives to reduce our environmental impact from farm to shelf.
As part of our commitment, Coliman Allfresch now offers biodegradable and compostable retail packaging.
Biodegradable & Compostable Retail Packaging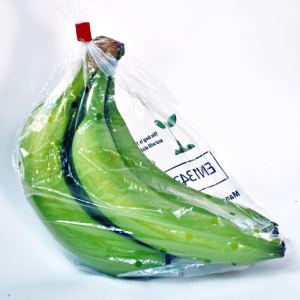 Sustainability is at the heart of everything we do, from organic growing practices to obtaining Fairtrade certification. As we are constantly searching for new technologies or ways to improve the life of our collaborators and the environment, it has been a long process consisting of a lot of research and innovation. But Coliman Allfresch is proud to announce that it has all been well worth it because our latest achievement is a new packaging, which is both biodegradable and compostable!
What does biodegradable and compostable packaging mean? 
It all sounds good, but what does biodegradable and compostable actually packaging mean? It really entails that the packaging will biodegrade by itself, within 6 months in a household compost or within 3 months at an industrial composting facility.
What will be left are carbon dioxide, water, and nutrient-rich compost – which you can use for your plants and herbs. This is truly revolutionary, as ordinary plastic can take up to several centuries to break down.
Coliman Allfresch has also made sure that after the packaging was certified according to our strict standards, it proceeded to be certified according to EU standards TUV AUSTRIA / OK Compost home S0347 and EN 13432.
Our Commitment to Sustainability
Coliman is committed to providing nutritious bananas while maintaining healthy ecosystems that provide food for generations to come. This is also the very reason we converted to 100% organic production. We are currently the only
Mexican grower with Organic Fairtrade certification for bananas.
A few of the areas we pay extra close attention to when it comes to sustainability is
– Water management and savings thanks to our pulse irrigation systems
– Farming practices that oxygenate the soil and limit soil erosion
– Recyclable practices on water, twine, and pallets
– And now biodegradable packaging!
We aim to protect our natural resources and actively seek ways to reduce our environmental impact; we have intentionally pursued Organic, Fairtrade and Rainforest Alliance Certifications.
Organic Growing Practises
Organic growing practices at Coliman Allfresch signify that everything from how the bananas are grown, handled, and processed is strictly regulated. Not only in line with our standards but also according to national and international law. Our facilities are also subjected to random inspections by third-party organisations to certify our compliance with strict organic growing regulations.
At Coliman, organic production also translates to:
– Soil management – the use of proprietary technology for organic soil nutrition and phytosanitary control.
– Plant Nursery – to make sure seedlings are obtained from its own certified organic plants.
– Water management – to ensure the quality of water and that it is not wasted.
– Prohibition of conventional pesticides – which have tremendously harmful effects on both the environment and humans.
For more information about our organic produce and bio packaging, please get in touch with our team.